For years, Oude Tonge has been the starting point for the fishing adventures on the Volkerak of Luca Nardin, fishing guide 'myfisguide.ch' and, together with Pierre Monjarret, also the founder of 'Predatorguiding'.
Volkerak, Haringvliet and Hollands-Diep - these are names that mean something to every predator fisherman. In general, the Rhine Delta is also mentioned in Germany in the same breath as other great pike waters. Large competitions with considerable media presence, such as the 'Predator Tour' at Hollands Diep, have made the waters known throughout Europe and more and more anglers are seeking their luck here.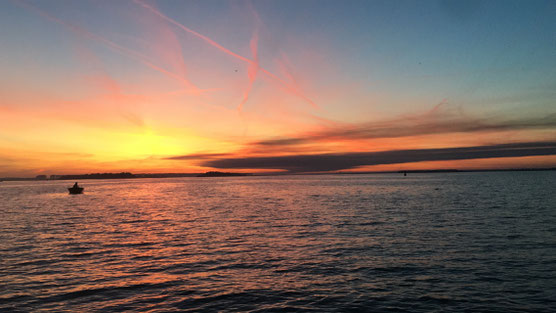 At the Volkerak, there are only a few possibilities to trailer your boat and many anglers avoid the big sluice that connect Hollands Diep or Haringvliet with the Volkerak. The starting point for guide Luca Nardin's clients is therefore the very well situated marina in Oude Tonge. From the holiday home with boatsteg right on the water, the guiding boat takes the clients quickly and safely to the best spots that guide Luca from 'Predatorguiding' and 'myfishguide' has got to know over the years.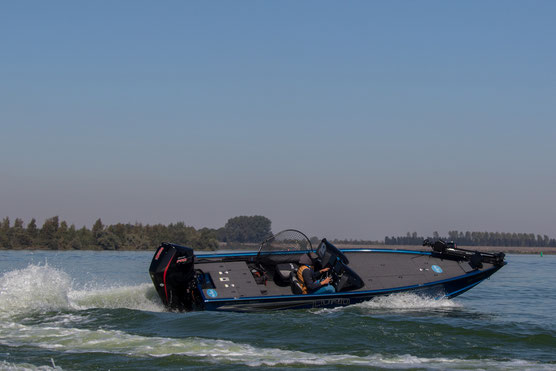 The stock of large predatory fish is first class. There are especially many large pike of over one meter here. But fishing the Volkerak is no easy matter. If you look at the Volkerak from above, you will notice the extensive shallow water areas that cover large parts of the shore. In these areas, fishing and boating are predominantly prohibited. As a result, fishing without a boat is unlikely to be successful, except in a few places.
However, without a sea chart or a guide who knows the area and has a well-equipped guiding boat with modern sonars, you should not go near shallow water areas by boat anyway. The risk of running aground would simply be too high.
In general, fishing for pike on the Volkerak is a very special challenge. It is always possible to hook a pike, perch or zander. But it is not a high-number-water and that is a good thing! Because fishing for this wonderful predatory fish, pike, is something special. It is a passion that clients of 'predatorguiding' / .myfishguide' receive live from the guide.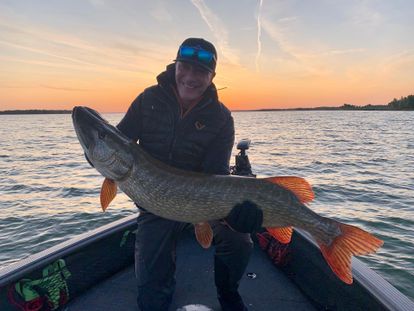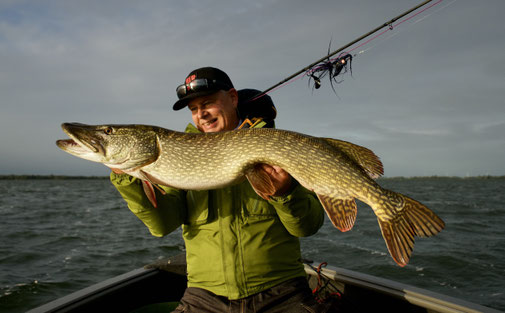 Very experienced anglers as well as nature lovers who want to experience big pike fishing are welcome. The guide helps to apply the right technique on these waters, which are very dependent on the weather, the season and other important factors, and can quickly approach and try out the different spots.
Many anglers who want to fish for big pike at Volkerak for the first time do not have the appropriate equipment with them. Special equipment is needed to handle the caught fish gently. Catch and release is compulsory for pike in all waters of Zuid West Nederland. They may not be taken there.
The right material:
It is very important that rod, reel, line, leader and the often neglected small parts are well coordinated in order to catch big pike safely and gently, to drill them and to release them as stress-free as possible.
Unfortunately, it happens again and again to unprepared anglers that fish are lost due to bad equipment and that they then possibly have to die in agony. As a guide, we deal with the material on a daily basis and also have suitable rental material available for our guests. The question of bait is often very philosophical: the choice depends on a great many factors - but one thing is certain: you have to believe in the bait! Whether very large or rather smaller lures, hardbaits or rubber, flashy or natural-coloured - there are many possibilities and it helps, of course, that the guide carries a very large assortment with him so that a lot can be tried out here as well.
Material recommendations:
Pike rod with a casting weight of up to approx. 200 Jerkbait rod
Baitcaster reel
Braided line min. 30 kg capacity
Leader; Fluor min. 1 mm or steal leader, min. 75 lbs
Lures; e.g. Buster Jerk, Giant Pig Shad, Guppie
Small parts (carabiners, snap rings); only of the very best quality
The guiding offer:
Booking a guide on the Volkerak is an advantage even for Dutch or German anglers who have their own boats. Predatorguiding' and 'myfishguide' offer the stress-free holiday and accompany anglers with ambitions on the lake. The aim is always for the client to experience the passion for hunting the biggest predators of freshwater. When success comes with the catching of a meter pike, it is unforgettable. Bookings of several days are ideal for experiencing the great waters. A stay in a comfortable holiday flat with direct access to the water is ideal for this.
Start of the season
After two months of closed season for all predatory fish, it will soon be time to fish again! And like every year, the Volkerak will be good for big dreams, hopes, fights and successes. We are looking forward to it - come too!